In Travel
The 10 Best Hotel Gyms In The World
Maintaining a regular exercise routine while you're travelling can be challenging, especially if you're crossing seas and time zones. While the most dedicated among us will cheerily head down to the hotel gym each morning, for others, simply mustering the enthusiasm to pull on sweats is difficult enough. But we're sure these faraway fitness centres will excite even the most reluctant gym-goers.
01.
Anantara Golden Triangle, Chiang Rai, Thailand
Staying at luxury resort chain Anantara's flagship resort is special enough thanks to its on-site elephant conservation camp. With the elephants more or less able to roam freely in the lush surrounds of the resort, you can catch glimpses of them from almost anywhere, including the gym if you're lucky. It's about as close as you can get to truly running with the animals.
02.
The Venetian, Las Vegas, US
The Venetian's Canyon Ranch SpaClub houses more than just a hotel gym: it's a veritable wonderland for travelling health and fitness enthusiasts. The aptly named Ranch lives up to its moniker, offering more than 150 services from pilates, kinesis sessions and group exercise classes to personal training sessions and individual assessments on everything from diet to foot health. There's even a 40-foot rock wall if you're up for a climb.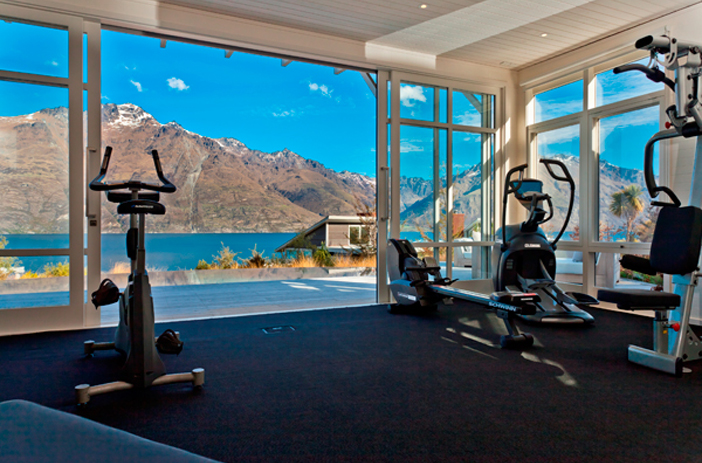 03.
Matakauri Lodge, Queenstown, New Zealand
Located in one of New Zealand's most gorgeous cities, Matakauri Lodge sits right on the pristine Lake Wakatipu overlooking rugged mountainscapes. No distracting TV screens needed here; the fitness centre offers an uninterrupted view over the lake and surrounding mountains, creating the perfect backdrop for your workouts. Cool off afterwards in the outdoor pool, which offers an equally stunning lookout.
04.
La Mamounia, Marrakech, Morocco
There's a reason why La Mamounia has become one of the country's most famous hotels: its ornate Moroccan design and lush garden surrounds make it a beautiful oasis among the bustle of the capital. The well-equipped gym has a sexy, dark interior that looks out on to the hotel's vibrant green landscapes, making it one truly luxe place to work out.
05.
Jumeirah Beach Hotel, Dubai, United Arab Emirates
While the beach is not an association you'd immediately make with Dubai, this big and boastful hotel offers a decent slice of it. The fitness centre is set over an impressive 18,000 square metres and houses a huge range of facilities, including tennis and squash courts, an impressive gym, and a rock-climbing wall. There's also 900 metres of private beach access, meaning adventurous travellers are able to try their hand at water sports and diving.
06.
AVANI Sepang Goldcoast Resort, Malaysia
At AVANI Sepang Goldcoast Resort, the accommodation is largely overwater villas, which thankfully extends to all the amenities: you can drink, dine, get pampered and, of course, break a sweat in the 24-hour gym – all with a clear sea view. Naturally, sailing and water sports are also available.
07.
Crown Towers, Melbourne, Australia
This is inner city opulence at its best. The split-level gym houses ultramodern equipment, and the rooftop tennis courts are a great spot to not only have a casual hit, but to also soak up an excellent view of the Victorian capital. The 25-metre indoor pool is truly where it's at, though, with its luxe gold detailing and floor-to-ceiling windows.
08.
Qualia, Hamilton Island, Australia
One of Queensland's most luxurious resorts is conveniently situated in one of Australia's most gorgeous locations – the famous Whitsundays. The gym offers a great view over the area's clear and calming blue waters, practically making workouts a lesson in relaxation.
(Lead image: Matakauri Lodge)